About St Paul School

History
Founded in 1904, St. Paul School is the only Catholic school in Salem, Ohio, and one of only two Catholic Schools in Columbiana County. Located in the northern part of Columbiana County, St. Paul School attracts students from several public school districts in both Mahoning and Columbiana counties. Students enroll from surrounding Catholic parishes. Students of other faith traditions are also welcome.
Heritage
We are proud of our heritage. For 98 years, the school was served by Sisters of the Humility of Mary. Currently operating with an experienced, committed staff of Catholic and Christian lay educators, the school continues its mission to spread the Good News; to form faith communities among staff, students, and families; and to provide opportunities for students to grow in awareness of others' needs. At St. Paul School, not only do we teach the Catholic Faith, but we try to live it each day.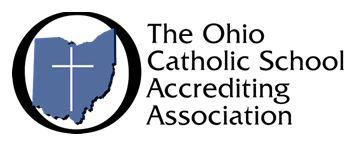 In 1994, the Bishops of Ohio formed the Ohio Catholic School Accrediting Association (OCSAA). The OCSAA is a collaborative undertaking of the Catholic dioceses in Ohio and is governed by the Superintendents of Schools who serve as the OCSAA Commission. The purpose of the OCSAA is to strengthen Catholic school identity and mission and to engage Catholic schools in the ongoing improvement of student learning.
In keeping with the mission of the OCSAA, the OCSAA process has as its hallmark a commitment to continuous improvement. As each school engages in strategic planning, it moves toward the vision of a high-performing school in which students are grounded in their faith life and achieve at high levels.
OCSAA accreditation also requires schools to show evidence that they are implementing OCSAA Standards. The State Board of Education has approved these Standards as comparable to the ODE's Operating Standards for Ohio's Schools. Through the OCSAA accreditation process, a new Catholic school can apply for a charter from the state of Ohio and existing Catholic schools can maintain their state charters.
All of the schools in the Diocese of Youngstown are fully accredited by the OCSAA and possess a charter from the State of Ohio to operate.
Present
In May of 2020, Saint Paul School was one of ten schools in Ohio to be designated a STEM School by the Ohio Department of Education. STEM (science, technology, engineering and mathematics) education provides students with a deep understanding of STEM subjects while incorporating inquiry-based learning and design thinking in all subjects.